LIGHTING TOWER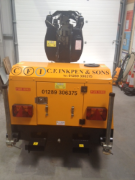 This is the ultimate lighting tower for external lighting applications. It is reliable, safe and quiet in operation. It is ideal for lighting construction sites, road works, public events, car parks, commercial areas and much more.


4 x 1500w brilliant white light
Maximum mast height 9m with 360 degree rotation
Mast erection takes only 12 seconds and is fully automated
Supersilent 3 cylinder engine
85 hour run time on a single tank of diesel
110v power supply for ancillary equipment
Easy to manoeuvre and deploy
HIRE RATES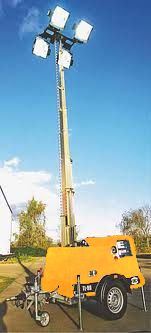 £100 per day
£80 per day for additional days
Transport to site free of charge up to 10 miles from Berwick. Extra miles charged at 80p per mile. Weight for self-tow 1050Kg.
All rates exclude VAT.
CONDITIONS OF HIRE
Lighting tower is used at own risk, any damage whilst on hire will be charged at cost on equipment return.
Equipment will be supplied with a full tank of diesel and must be returned in the same condition.
All payments by credit or debit card prior to hire.